Updated March 2015
This exciting section gives recognition and a bit of publicity to our South African Collectors. We will be adding new collectors at regular intervals. The top 10 items in a collection will not necessarily be the most valuable, most attractive or even scarcest but will nevertheless hold a very special place in the heart of the owner.
Sometimes a collector might not be able to select his or her top ten in which event we simply show the person with the collection and maybe some of their favourite pieces.
Every bottle tells a story and we hope to learn a little more about the collector as we progress with this new section.
Albert van Rensburg, Pretoria, Gauteng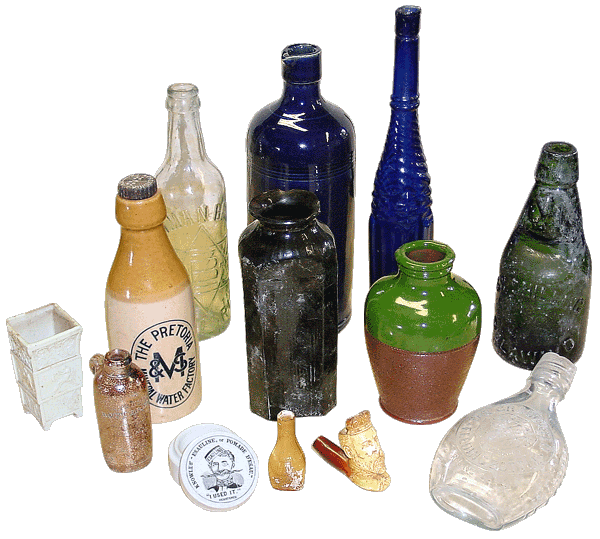 Albert started digging in 1988 at the Monument dump and has since dug at just about all the major dumps in South Africa. Included below is a really old snuff bottle (Mortuary dump), Figural pipe, Browning Bulawayo dumpy green Codd (with dark green marble), possibly the smallest (99mm) recorded Hulstkamp Zoon & Molyn stone gin and a most unuasal vase in a cream coloured glass with a Rd. stamp.
Chris Jacobs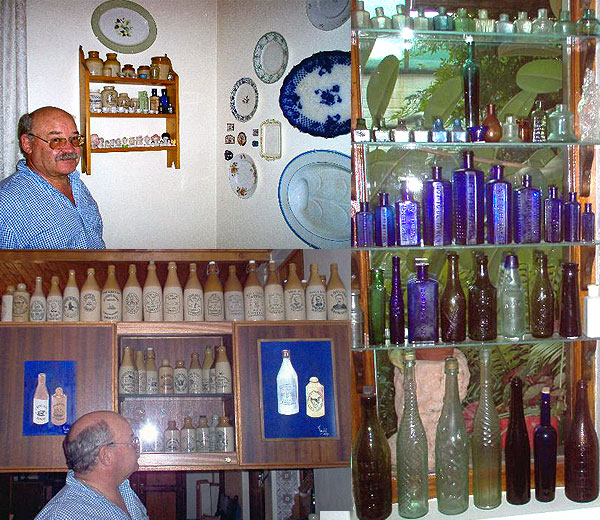 Chris was fortunate to have been in Kimberley when bottle digging and collecting in South Africa was in its heyday and started in 1983. He moved to Upington and has still continued with his interest. We regularly hear from him and are amazed at how he consistently comes up with new discoveries.
Clifford Le Riche, Kimberley, Northern Cape.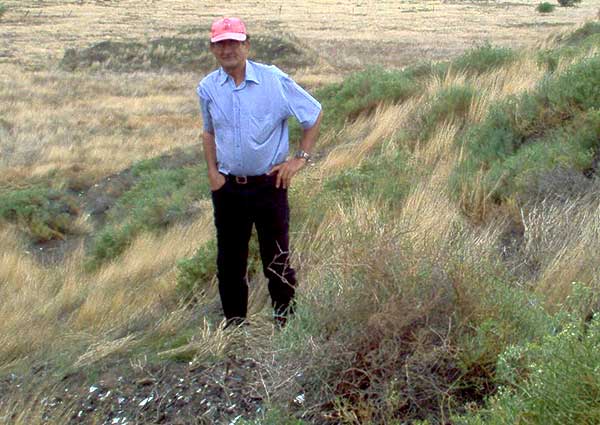 This picture taken 5 November 2004 shows Cliffy on the highest point of the Kimberley dump on the Kamfersdam side. He could well be standing on a red-lipped 10 ounce hybrid Codd buried up to seven or eight metres below his feet.
Cliffy was one of the first Kimberley diggers I met and has remained a firm friend and good contact over the years. He has been responsible for my Gilbertson's Wedge poisons, Eugene S. Whyte Bluelip Codds, most of my Kimberley Ginger Beer bottles and a host of other finds. Financial set-backs have unfortunately lead to him having to sell off his prized items from time to time but Clifford remains one of the "founding fathers" of South African bottle digging and collecting.

Above are just a few of my most prized bottles that have come into my collection through my dear friend Cliffy.
Dale Lewis, Cape Town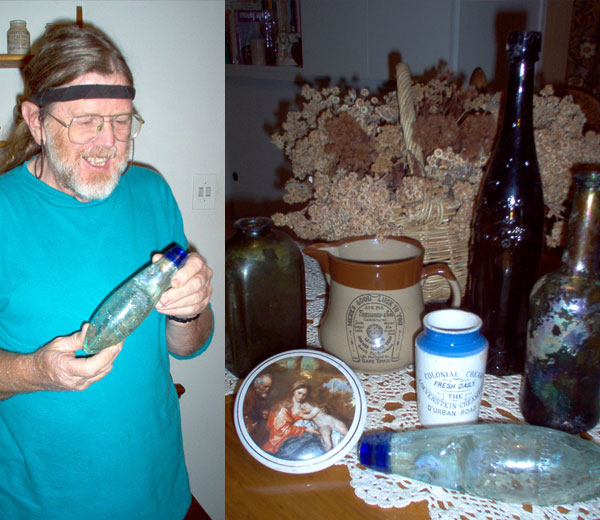 Dale Lewis is a full time dealer / digger / collector who started his digging career in September 1982 in Cape Town where he still lives. He has dug at just about every single Cape Town site as well as Kimberly, Knysna,Randfontein Boksburg and even Manchester and South Wales. Dale can still be found peddling his wares at the Milnerton and Greenpoint fleamarkets in Cape Town
Dale has recently published a charming and highly informative book, entitled "Collecting old bottles and stonewear in South Africa"
Dick Wassenaar, Pietermaritzburg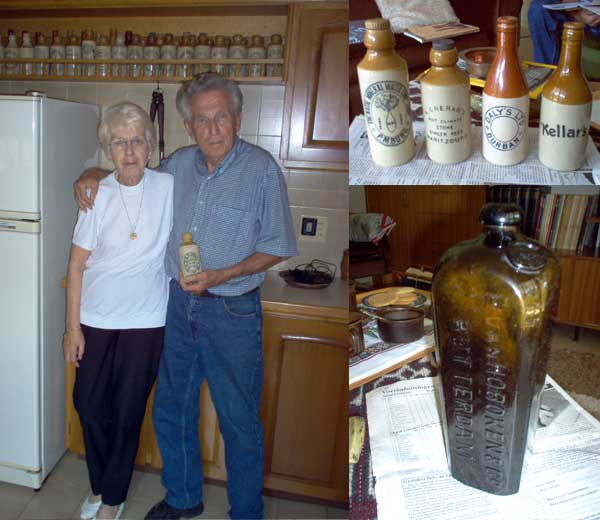 Dick is one of the oldest diggers in the KwaZulu-Natal region, currently residing in a lovely security complex in Pietermaritzburg. He has many tales to tell of the early days of digging with Richard Eva, Felicity and Andrew Meyer, Gary Crosby and some other diggers of whom I have never heard.
Dick and Mies's lovely home is tastefully decorated with bottles and although Dick is no longer actively involved in digging, he is still sharp witted and remembers where every bottle came from.
Passed away 2009. His collection has been sold.
Mike Conradie, Durban, Natal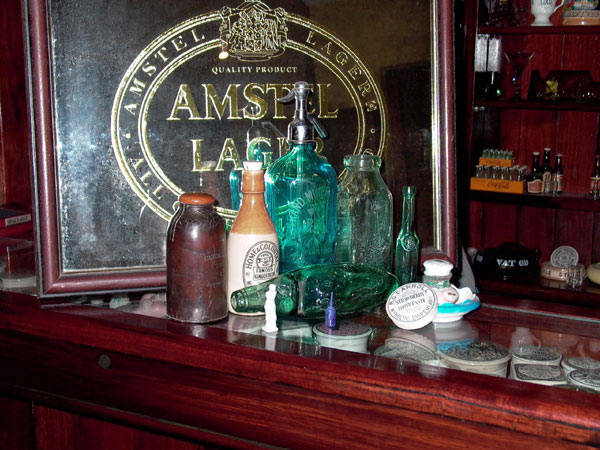 To see Mike Conradie's Top Ten Ginger Beer collection click here
Mitty Leroux Heynes
Mitty has been collecting for a number of years and has built up a small but interesting collection accross the entire spectrum. She has dug at Kimberley, Port Elizabeth and Forest Hill so she really is one of the boys! We are grateful for her recent donation of her collection to Antique Bottles cc and wish her well on her extended holiday in Ysterfontein.
Paul and Mossie Greyling, Pretoria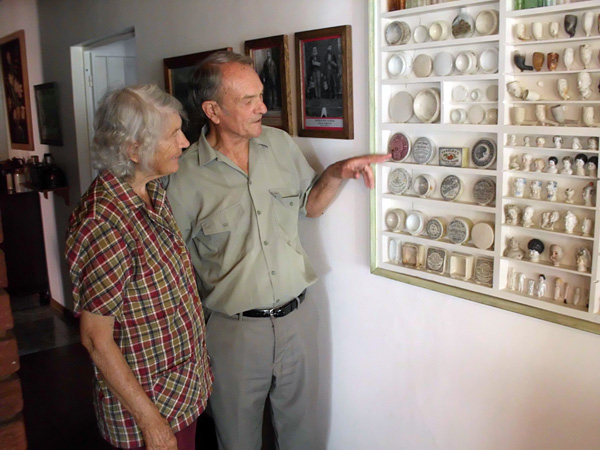 Paul Greyling who lives in Pretoria, has been digging for at least 25 years and has built up a respectable collection. He is also a keen collector of Boer War Memorabilia and early Afrikana. His house is like a museum. Truly fascinating.
Richard Eva, Newcastle, Natal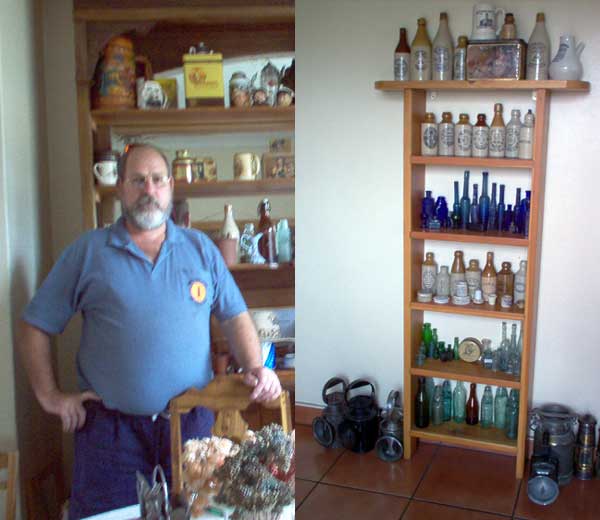 After eight years of searching I finally tracked Richard Eva down to his shop in Newcastle Natal.
I spent a very pleasant morning on the 8th of February 2004, while Richard recounted fascinating tales of incredible digs in Pietermaritzburg and Durban some 10 years ago. Richard dug 8 Meldrums bottles in Pietermaritzburg in less than 2 years! He is no longer actively involved but I hope my visit might have re-kindled a spark and might possibly lead to a local dig?
Tommy Venter, Pretoria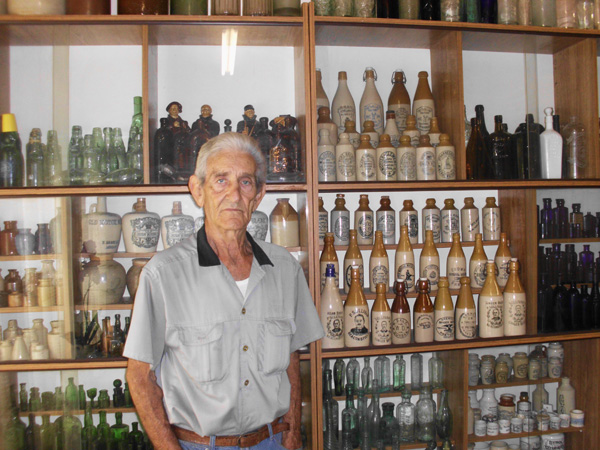 In may 2014 I visited Tommy Venter who I had not seen for more than 15 years since we last dug together in Boksburg. He is still going strong and has a magnificent collection which is up for sale!
Tony Siebert, Potchefstroom, North West Province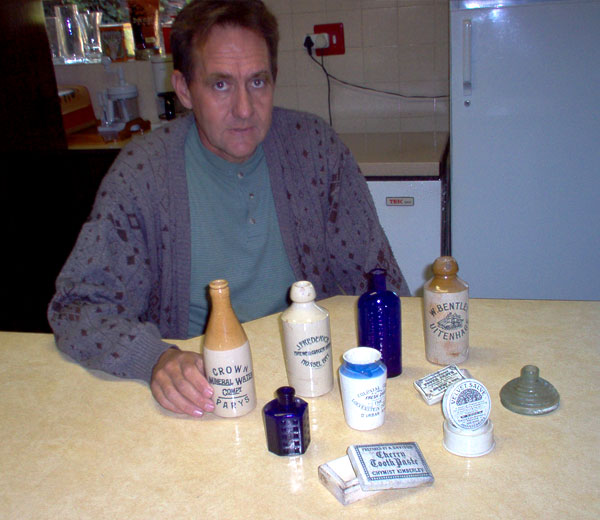 Tony has been digging since 1983 starting at Witrand (Boer War campsite) in his hometown of Potchefstroom. I met him in 1984 at Kamfersdam and he has dug at just about every site of importance in South Africa. A dig at Forest Hill some years ago was nearly his last when he had to be dug out of a bad cave-in. At one stage Tony had one of the largest collections in South Africa but due to circumstances had to dispose of most of his collection.
Sadly, my dear friend and bottle digging colleague, passed away after a short illness on 18 July 2011. He is now picking up Red Lipped Codds and Blue Glass Gibertsons Wedge Poisons on that great dump in the sky.
Trevor Dally. Upington, Northern Cape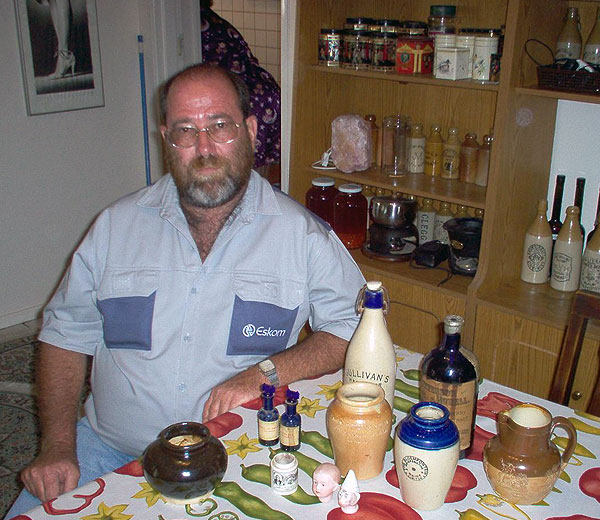 Trevor passed away early in July 2014 and I pay him tribute.
Were it not for his sincere friendship, moral support, total unselfishness and boundless generosity,(in opening his house to me) I may never have dug in Kimberley 3 or 4 times a year in the early 1980's and might have just given up.
Rest in peace my friend!
Trevor Dally was one of the early (1984) Kimberley diggers whom I befriended on my first dig. He had to move to Upington in 1989 and has not done much digging since. We dug together at Chamdor with Tony Siebert in April 1990 and did very well. Trevor and his charming wife Rose together with a large number of cats live in a lovely house surrounded by chillies, chillies and more chillies.
Vincent & Engela Roderick, Kimberley, Northern Cape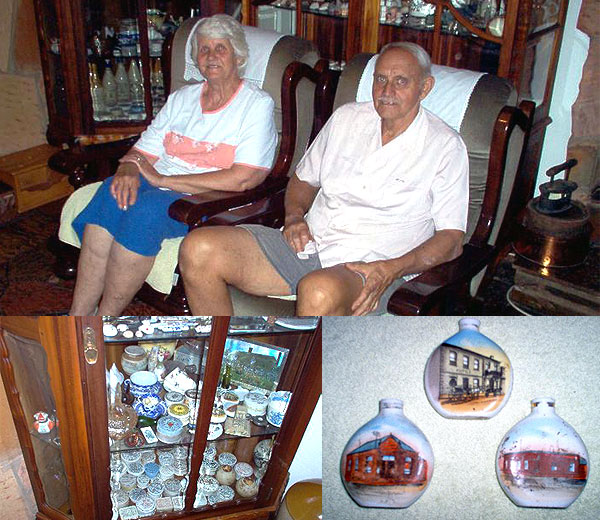 Vincent Roderick (Oom Vince) and his wife are surely the oldest active diggers and collectors in South Africa. At 69 years old, to be able to sink a 2 day hole at 37°c takes some doing! He and his lifetime companion Engela started digging in 1972 which means they were going for at least 11 years before I started!
Wade Kidwell, Durban, Natal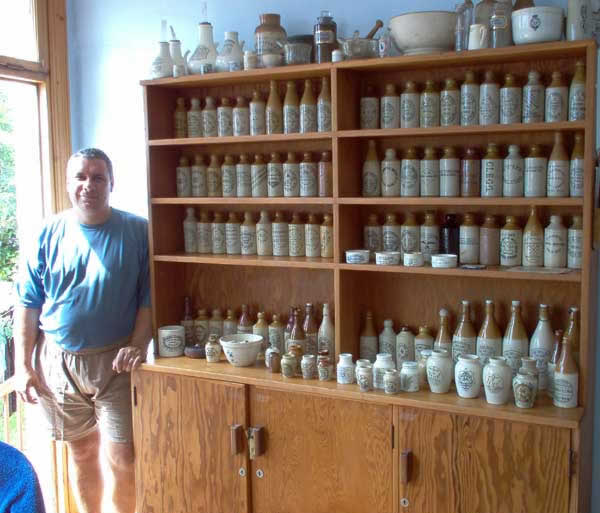 Wade has been digging and collecting for some years and lives, together with his long-suffering wife and energetic son Reece in Durban. His home is a veritable museum and his main passion is enameled signs of which he has undoubtably the largest collection in South Africa.
Wilhelm Oelofse, Pretoria, Gauteng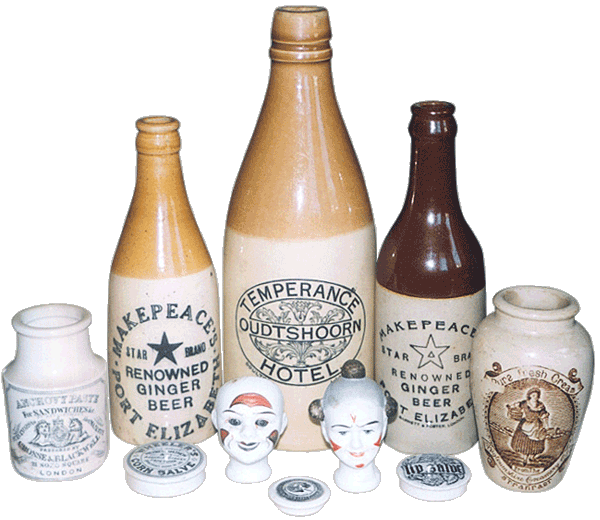 Wilhelm is a Port Elizabeth digger and collector who we have not yet met but we look forward to doing so and finding out a little more about him in due course. His top ten includes the ultra rare Temperance Hotel ginger beer (Doulton Lambeth), a very nice miniature Queenie and a super sepia print Stranraer cream pot. We are hoping he can tell us more about the clown dolls heads which are most unusual.
Wilhelm knows of a good few sites in and around P. E. and we look forward to a lot more input from him in the digging section in future.