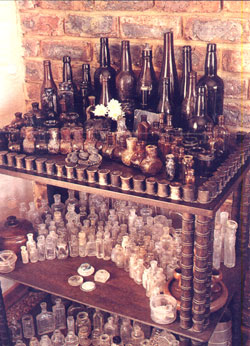 A display in the dining-room featuring brown and clear glass bottles. The unit was made out of shelves of wood supported by columns of solid wooden cotton reels, stained brown, also from the ash heap.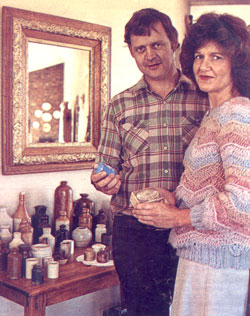 Ria Cronjé from Hennenman in the Orange Free State started collecting bottles and soon passed her ethusiam on to her husband. Now he supports her in her hobby in every possible way.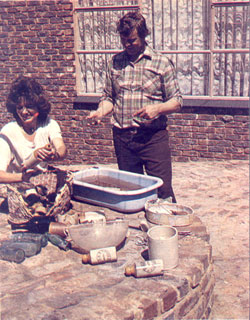 Cleaning and repairing is the second exciting step after the thrill of the initial excavation.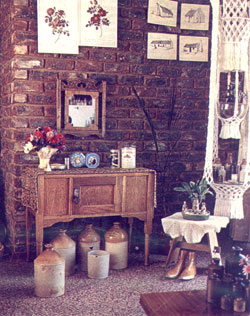 Modern in every way, the Cronjé home has a mellow atmosphere imparted by their collection of antique jars and bottles.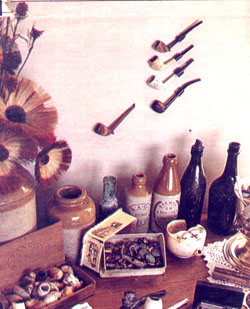 Old pipes, weathered military buttons and containers filled with stoppers all have decorative value in Ria's hands.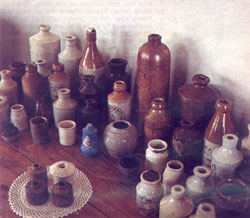 Every one of these eathernware containers was retrieved from a rubbish dump, about 100 years old near Pretoria. Piece de résistance is the little Wedgewood jar which bears the head of Queen Victoria and the dates 1837 - 1897.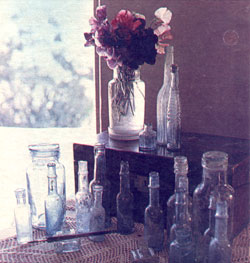 Ria has an eye for the colours and shapes of the antique items she reclaims. Ornaments in her home consist entirely of decorative arrangements of bottles, jars, pipes and snuff tins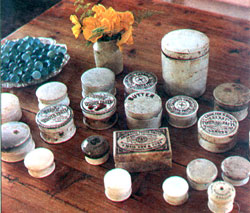 An arrangement of toothpaste, butter and mayonnaise jars which are over 70 years old. The glaze and painted lettering are still remarkably well preserved.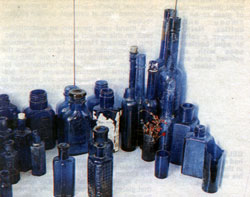 Medicine bottles and poison bottles from the turn of the century.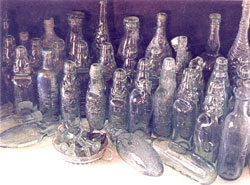 .
There about eight different shades of glass to be found among antique bottles. Here Ria arranges a collection of aqua bottles. The ones with the sharp ends are the oldest.


Piet Cronjé had a special unit built in the lounge to offset his wife's artistic displays.
Their Home could not be more modern. Set on a slope at Faerie Glen, Pretoria with far views to the east and south, the house is built of unplastered brick for the most part, with a lounge opening on to a swimming-pool and a functional yet elegant kitchen opening on to the dining-room. Up a few steps there is a family work-room accommodating a large, electric typewriter, and the entire house is carpeted and tiled in shades of brown. Ria and Piet Cronje are definitely children of their day, yet the fascination of their home comes from antique objects, about which Ria and Piet are very knowledgeable - bottles and earthenware jars of every shape and size are artistically arranged in different ways throughout the house.
Right next to the front door, there is a group of the tiniest bottles imaginable. A special unit in white, to offset the exquisite colours of the glass, covers one wall of the lounge. Some eathernware jars stand on the lounge. Some eathernware jars stand on the floor under the Cape cottage-style dresser, some grace the top of an old chest. Others form part of still-life arrangements combined with dried flowers, and still others give colour to the dining-room walls in shades of brown, lovingly polished and reflecting the light from their rich glazes.
The interesting thing is that every item has a fascinating story, and both Ria and Piet can spend hours telling one about the origins, discovery, restoration and history of their collection. "Once the bottle-collecting bug bites you, you're permanently addicted," Ria admits.

It all started when a friend showed her some bottles which she had found on a site near Pretoria. Now a dig is nearly every Saturday's exercise. The whole family joins in the expedition, and the two children, a son and daughter, are just as enthusiastic and knowledgeable about it as their parents. It is not always possible to unearth the right tops fir the jars and bottles and, most of the time, the future objects d'art are badly shattered. Yet both boy and girl are past masters at per-severing until they find something that fits, and they have built up a considerable stock of spares which they keep for possible future use. "The children are also very good at matching broken bits and building up missing pieces, " Ria says. Dentai plaster and Bostik are the most important tools-of-the-trade in this part of the business. For the actual unearthing, Piet uses a pick and shovel. Didn't this lead to more breakage than had already taken place? "Not at all," he explained. "You can hear when a prong of the fork touches something and then you go very slowly, using a much smaller tool like a knife."
Some of the bottles have a most unusual, deformed shape, which makes them even more interesting. This was caused when the rubbish dump was set on fire, the heat causing the glass to melt. Today the dump to the south-west of Pretoria is almost entirely covered with glass, and one has to dig down two metres or more to find the really old objects. There are layers of soil and ash that have to be worked through, and when the bottles and jars are finally extricated, they are stained and discoloured that it takes an expert eye to detect their historical value.
Now comes the next big job. The treasures is loaded into the car, taken home and soaked before being cleaned with chemicals, brushes and clothes. After this, the items are carefully glued together, reconstructed, if necessary , and polished. "Our clothes are so filthy that I often have to wash them three times," says Ria. But nothing dampens the Cronjés' ardour. Just ask Ria to tell you more about some of her treasures and the reason soon becomes apparent …

There are ginger pots, brandy jars, medicine bottles, jars for anchovy paste, toothpaste and mayonnaise, jam pots, ink pots and marking-ink bottles, mineral water bottles, beer and ginger-beer bottles, poison bottles and perfume bottles. One embossed label in the glass says, "Elliman's Royal Embrocation for Horses, Manufactured Slough"; another "Otto Landsberg - beroemde snuif, Loop and Shortmarket Streets, Cape Town". They mixed their languages even then, it seems.
There are a number of bottles stoppered with marbles from the inside, dating from 1875 to 1920, patented by a certain Codd, who patented 50 modifications in England. The oldest bottles have sharp-pointed bottoms; these were designed by William Hamilton and produced between 1814 and 1916. Then came bottles with rounded ends. Some are three-sided; some were made to lie on their sides. There are inkpots which fit together, two at a time, with a groove down the side of both to hold the pen; and there are fruit salts bottles with the name of the manufacturer embossed on the glass stopper as well as on the bottle - to mention but a few.
Stoppers are such interesting items themselves that Ria has displays of them in glass containers. There is even a bottle of stoppers in the bathroom. One way of being able to determine the age of a bottle is by looking at the seam. If the seam runs only to the neck, the bottle is very old; if it runs to the lip, it dates back about 50 years or more. Interestingly, poison bottles (dark blue) were ridged, no matter what their shape or size.
This was to prevent confusion with an ordinary medicine bottle, if sought during the night, in an age before electricity made it possible to put the light on by flicking a switch.
Apparently there were all kinds of exciting toothpastes in our ancestor's day - cherry toothpaste, states one jar; Calvert's carbolic toothpaste, at sixpence and one shilling. (for a beautiful little earthenware jar) is stated on another; and aromatic toothpaste - an elegant preparation for cleaning and preserving the teeth and gums. S. Maw, Son and Sons, 7 to 12 Aldersgate St, London, England, says a third. This address appears on a variety of jars, leading one to suppose that 7-12 Aldersgate Street was the home of the toothpaste-manufacturing company business a hundred years ago. A white earthenware drinking cup with a red cross on it bears the inscription Princess Christian's Hospital Train, 1899, and a wine jug dated 1903 bears the name Atkinsons and Compan. There is a brandy jar stamped with the name Lucas Bols, Amsterdam, and an imperial mineral water bottle from Standerton, dated 1895.

If Clay tobacco pipes are found in a refuse dump, it can be safely estimated the the hole is 100 years old. Ria filled cigar boxes with pipe bowls of many different shapes and sizes. Apparently when clay pipes were used, the stems soon became saturated with nicotine. It seems that our forebears took a fresh one nearly every week.
Nothing she discovers in the dump - which can be used for interior decorating - escapes Ria's eagle eye. She has old-fashioned dolls' tea-sets of china. And a bottle filled with old military buttons, now green with age and chemical action, yet as finely engraved as the day they were made. She also has a pewter beer mug with a glass bottom. "The glass bottom was for safety's sake," she explains. One could look through the bottom while drinking and see if anyone in the immediate vicinity had pugilistic designs.
On a table nearby is a ceramic bowl filled with tins of all kinds, mainly for snuff or balm. One is beautifully painted with busts of people and bears the word, Babbelaars - echte Zeeuse boter, Middelburg. There is a real Mazawattee tea-caddy among her collection and some little golden pyramid-shaped tins used for holding gramophone needles. One rather large tin from Craig Mills 1815, bears the words Grant's Scotch Oatmeal, Dundee, Scotland. It is a tin which contained 7lbs of oatmeal, printed all over recipes.
A friend once gave Ria an authoritative book on the subject entitled Bottle Collecting by Edward Fletcher. Fletcher mentions that manganese was used to produce the earliest bottles in the 19th century. This was particularly fortunate for today's bottle-collectors because when bottles made with manganese are exposed to ultra-violet light, they turn a beautiful shade of amethyst. Believe it or not, the colours which can be found in antique glass bottles are aqua, dark green, brown, black, white or milky, ruby red, emerald green, light blue, yellow and bronze.
"No two 19th century bottles are exactly alike, "says Fletcher." They may be the same size, the same colour and have identical embossing, but the air bubbles in the glass make each bottle unique. Blowing the bottle often elongated some of the bubbles. These are known as 'tears' and a bottle with lots of tears is highly prized." He also points out that glazes were applied to early stoneware by hand, which makes every stone jar or pot unique. On many specimens, the finger-prints of the man who applied the glaze can be seen in the finished products.

One of Ria's greatest treasures is a little Wedgewood jar of the true, rich blue of early Wedgewood, with its top missing. However, they shaped a little cork to fit exactly. The jar has Queen Victoria's head on it, and the dates of her rule, 1837 - 1897. How could anyone have thrown such a valuable article away? Or for that matter, how could anyone have thrown a Bible away? Yet on a little table - between two early old Cape cottage chairs from Smithfield - is a finely printed High Dutch Bible, also recovered from the ash heap. Another collector's treasure is a perfect replica of a coal stove in miniature, about 1,5m high. For a doll's house perhaps? One thing is certain. Now where could such a thing be found today.
Artistic Ria took an old chair back, fitted it with a mirror and hung it on the wall. It makes a perfect old Cape Dutch piece. She sees the decorative value in everything old, and has made intriguing arrangements of old family photographs framed on the wall by old ironwork from an antique bedstead. A Free Stater from Hennenman, she never despises anything former generations discarded. The family once came up from Smithfield, where they had been visiting her mother-in-law, with three chairs and a table, together with numerous other items, piled into the car, plus the children. She admits to being utterly captivated by her hobby, and her enthusiasm is catching. The first thing Johan Brummelkamp did on returning home after taking photographs of her collection was go to his garage and root out an old jug which his mother had given him. It was large and solid and made - of copper.
Worth a small fortune today.
The Cronjé family will never be able to give up their hobby, that's certain. But there is nowhere else in the house to exhibit their treasures. Even the bathroom is decorated with them. So now they are starting to stockpile. In a special room built under a veranda overlooking the swimming-bath, Ria has arranged her spares as artistically as her displays in the house. One day she may even consider setting up a business. It's not only in Pretoria that there is a dump over a hundred years old. Port Elizabeth has one too and from all accounts, it should be worth while to dig there, considering the origins of the early settlers who founded the town. A farm near Graaf-Reinet has also produced some rare specimens and recently, when the foundations were dug for a new supermarket in Kroonstad, some wonderful finds were made below the first metre of Free State soil.

"All that is needed is an eye that sees, and an interest in bygone customs."