Updated August 2014
When we started our research into the Brands it soon became clear that a number of bottles near and dear to the hearts of diggers and collectors were no longer being marketed but still had a rich and interesting history which we would like to share with you.
Where you see a link for an advert please do take the time to open it. Some of these 1890's showcards / adverts are really beautiful!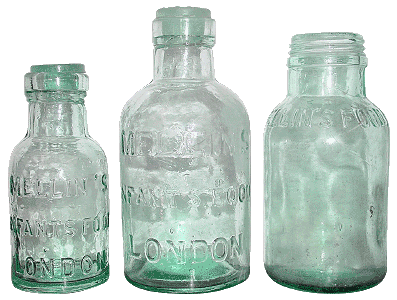 Mellin's Food in its distinctively shaped bottle was extensively marketed in the late 1880's and early 1900's as a rich source of nourishment for infants and toddlers. The advert taken from the publication mentioned in the beginning bears testimony to its German origins. Click for early advertisment.
I always believed my W. G. Nixey's bottle (dug in Kimberley) to be really old and the advert proves it! Nixey was established in 1847.
It is strange to think that a bottle which cost 4s6d in 1896 should sell for more than £500 today! We will be dedicating a whole section to Warners Safe Cure soon.
In the showcard pictured on the right "Ye bold and fearless knight "Sir Modern Science" with his goodly shield "St Jacobs Oil" and trusty sword doth gallantly rescue that suffering damsel "Humanity" from ye two fierce and ravenous Wolves called "Pain" and "Death"". All of which to advertise a Eucalyptus Oil!

The smaller bottle pictured left is embossed St Jacobs Oil Ltd / London and the other three, ST JAKOBS OEL / THE CHARLES A VOGELER COMPANY / BALTIMORE, MD, USA. All three are embossed slightly differently and came from the same dump. From the advert placed in 1897 it can be seen that the company was established in 1847.
Rowlands Macassar / OIL / No 67 Late 20 Hatton Garden London / THE ORIGINAL AND GENUINE.

Similiar to Fridge and Hoover, antimacassar is a name of an item which owes its origin to a product. Rowlands Macassar Oil was used as a hair product and the embroidered throw-over used on the backs of upholstered chairs to protect the fabric against soiling by this product came to be known as an antimacassar.