A brief chat with Pierre Kriegler on the Kimberley Dump, combined with a few clues inadvertantly given, led to my discovering "Forest Hill".
This dump is the "home" of Home & Colonial ginger beer bottles, amazing potlids, incredible blue bottles and many, many more wonderful finds.
The only 3 recorded examples of the United States Mineral Water Works Ginger Beers (no. 452) were all taken from Forest Hill as well as the only 2 shards of Marathon Mineral Waters, the first of which was co-incidentally dug on Comrades Day (Youth Day) 16 June 1993.
A young SA Police Constable called Pierre van der Merve had been digging, with his parents at Forest Hill for about 2 months before I arrived and what an incredible experience it must have been. Of all the dumps I have ever dug, this dump has by far, the largest selection of ginger-beers with more than 30 varieties recorded.
Joe de Necker (still active in the antiques field), Louis & André Nel (likewise), Basie Nel (no relation of Louis), Piet Cronjé, Johnny Taljaard, Louis Findlay and a friend (Hartley?) of his were all active on this dump at the same time.
Later arrivals were Albert van Rensburg, Tony Siebert, Bobby Wales (Deceased), Mike Conradie, Iain Steuart (emigrated), Nick Welman and one or two infrequent visitors from Boksburg.
Boksburg is the lead-in to the next dump, next time..
Rod Comer can be contacted at rodcomer@antiquebottles.co.za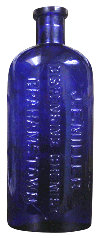 A rare Cobalt Blue embossed SA Chemists Bottle

Only known example dug at Forest Hill 3 April 1994