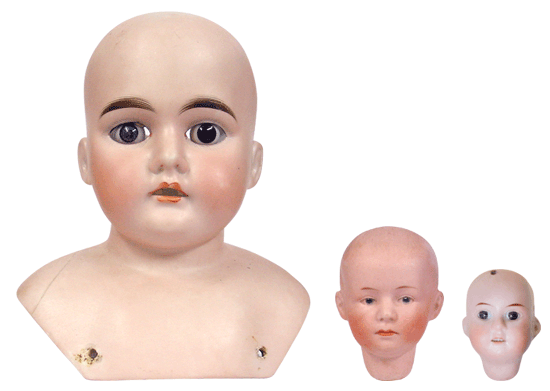 From left to right. * The largest recorded dug pink tinted bisque head 172mm tall. The glass closing eyes are not matching and neither probably belonged originally. Engraved "3200 AM9DEP made in Germany" at rear. Dug Boksburg July 1990.* A distinctly male looking doll. * This pink tinted bisque head, relatively small (55mm) still has the original fixed glass eyes and teeth. Engraved on rear "1909 DEP. R1410A"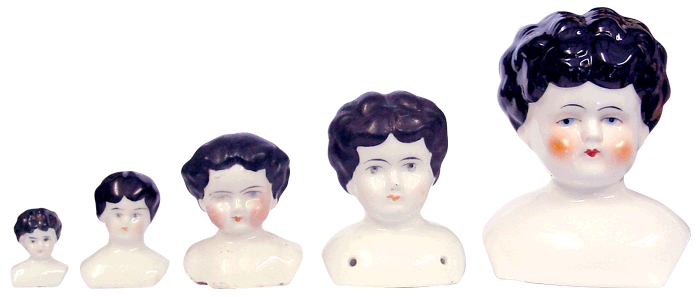 A group of "Black Berthas" the largest of which is 99mm tall and bought at Melrose House Antique Fair.

A group of Bonnet dolls. These can be found up to 85mm tall and are surely the most attractive of all the dolls heads which might be dug. All of the above emanate from the Kamfersdam dump and for some inexplicable reason are seldom if ever found anywhere else.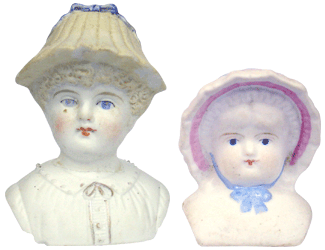 A pair of Bonneted dolls heads c 1885 taken from the old Kimberley dump.

A group of blonde Victorian young ladies. On the right hand side is the first dolls head that I ever found, spotted in the spoil heap by my 7 year old daughter Cindy on a dig at the Army dump.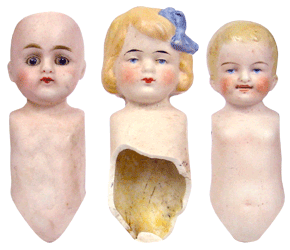 A trio of full body dolls which would have had hinged limbs.
Here is a group of "stick" dolls which would have had hinged arms . These European manufactured dolls are often mistakenly identified by S.A. collectors as Voortrekker dolls because of the traditional "Boervrou" headgear.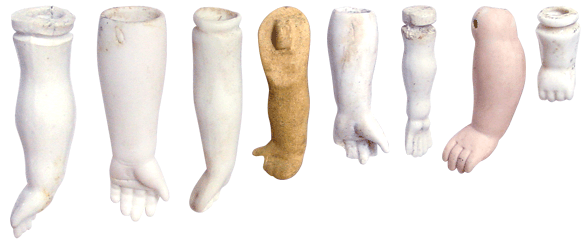 A group of hinged and solid arms.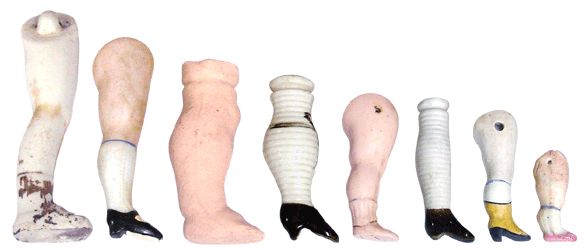 A selection of sometimes robust Victorian legs showing some of the latest hosiery and shoes.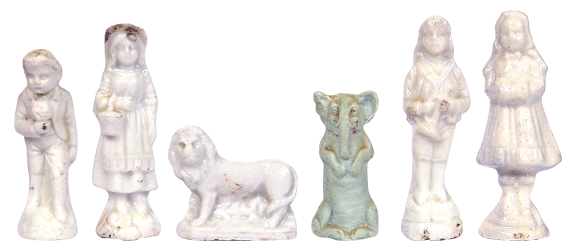 A group of fairy-tale charms including little Jack Horner, little miss Muffet and little miss Riding Hood.

Chinese lucky charms. According to some authorities these were placed in the earliest versions of what are now known as "lucky packets". Distinctly chinese in character all of these pictured were dug at Forest Hill, a dump which yields many artifacts directly associated with the Chinese slave labour used on the early gold mines. Tallest 32mm.

Teapots and water & milk jugs are found in a number of shapes and sizes.

The lucky digger may find printed matching cups and saucers.